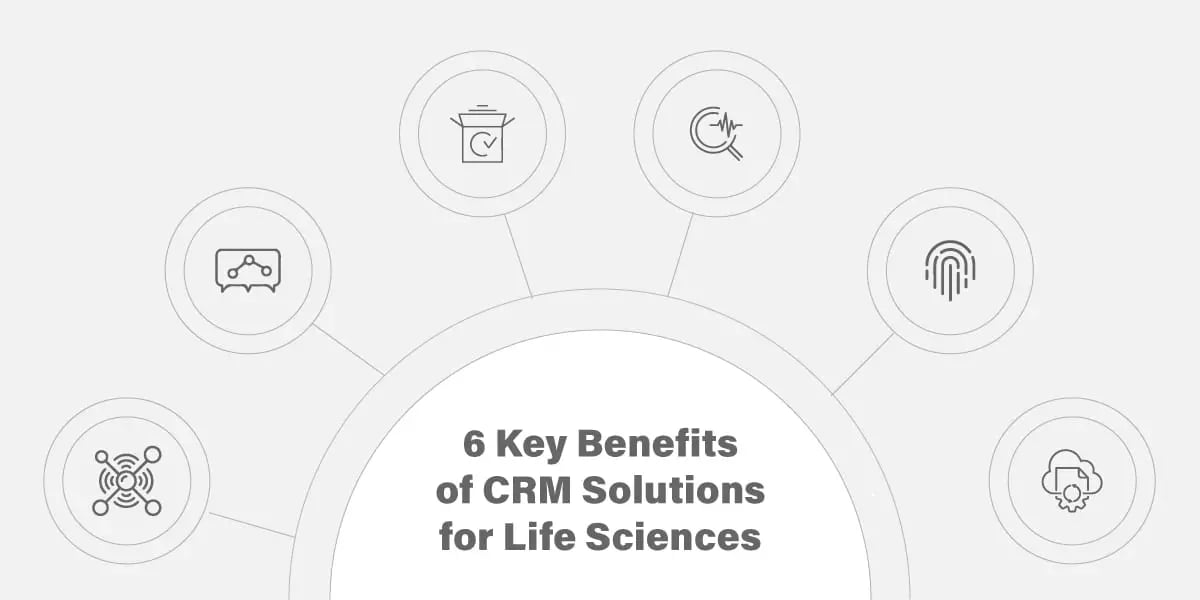 The increased use of software as a service (SaaS) across all industries has significantly impacted on the way companies operate. Organizations that are integrating various software into their daily activities are increasing efficiencies across all operating segments. More specifically, CRM software has tremendously helped companies manage internal processes as well as external relationships with customers and institutions. This is especially evident in life sciences organizations where managing customer relationships across complicated health systems and strategizing them throughout the product life cycle is at the core of their operations.
While there are many benefits to SaaS CRM solutions, the six key benefits that present themselves to the life sciences industry are as follows:
Organization




When it comes to managing customer relationships, organization is key. Whether you are a sales rep, MSL, NAM, or key stakeholder, the ability to have all of your relevant information in one seamless CRM and analytics platform supports more streamlined strategizing and decision making. Overall, customer insights that are well organized makes it easier to interpret information that is impacting your company's bottom line.

Increase team engagement




A CRM platform that is intuitive with a user-centric design, will increase sales team engagement. The "road warrior" lifestyle of most reps demands a CRM platform with just-in-time information that's easily accessible on the go. A mobile interface with all the insights in one place enables quick decision making and decreased pre-call preparation time. Increased sales team engagement results in more efficient and strategic commercial teams overall.

Accelerate the product launch process




A major pain point of the life sciences is improving product launch results. However, with the right CRM solution for your commercial and medical teams, product launch results can be improved. The ability to decipher the needs of your target market and address them head on will increase the likelihood of product success. Therefore, pre-launch support and leverageable customer data must be available to your commercial and medical teams.

Discover new opportunities




As a sales rep, MSL, or NAM, discovering new opportunities is just as important as maintaining current customer relationships. Data that tells a story at the local, regional, and national level will present opportunities for new relationships with HCPs, KOLs, and IDNs. Understanding the competitive landscape and using a CRM platform that guides you on where the opportunities and gaps exist will grow a stronger and larger network of customers.

Optimize customer relationships




With all of your customer information in one interface, optimizing customer relationships can be seamless. Detailed data at the forefront of your commercial or medical team enables personalized discussions with specific customers, cultivating strong, valuable relationships. Whether it be relationships with HCPs, KOLs, or IDNs, a CRM platform with information about these target audiences will help drive value for existing customers and decide how to target new ones.

Generate reports




In order to accurately track performance, reports measuring preferred KPIs will help sales managers and senior leadership effectively judge the success of their teams. From there, they can decide the best way to encourage and coach their sales team. Additionally, reports measuring the performance on a physician or institutional level will help senior leadership see the bigger picture at large to decide if existing strategies need to be modified.
Overall, a well-developed CRM tool can enable commercial and medical teams in the life sciences industry to provide value to their existing customers as well as hone in on new opportunities. A tool that is designed to mitigate the pain points of the life sciences, will help optimize customer relationships, accelerate product launches, and re-evaluate and modify existing strategies.
TikaMobile does what other CRMs cannot, such as data collection scalability, aggregating actionable intelligence, and utilizing a recommendation model for capitalizing on opportunities. TikaMobile is an intuitive CRM, business intelligence, and advanced analytics platform built specifically for the life sciences sales and medical affairs teams to operate more strategically by being more data-driven in managing customer relationships.
Citations
https://www.forbes.com/sites/forbesagencycouncil/2017/10/24/why-is-customer-relationship-management-so-important/#4d89d30a7dac