TikaMobile is sponsoring the upcoming MedForce Conference in Minneapolis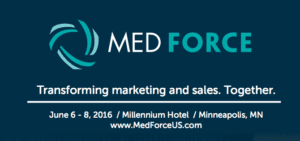 We are proud to announce that we will be exhibiting, presenting and sponsoring the upcoming MedForce Conference in Minneapolis June 6-8.
The MedForce Summit brings together over 150 marketing and sales leaders from medical device and diagnostics manufacturers. MedForce 2016 is an opportunity to learn how to bridge the gap between the sales and the marketing leaders in the medical device industry.
TikaMobile Inc. is a leading cloud-based platform for medical device commercialization. With four key products: TikaCRM, TikaDevice, TikaPortfolio and TikaSurvey, our product suite streamlines the sales and marketing activities for launching and growing medical devices in the market. We provide field reps and management best in class tools for targeting and customer segmentation, call planning, CRM, customer business review, forecasting and case tracking. Having enabled numerous successful product launches on our platform, we provide the innovation needed for an accelerated path to product growth in today's complex, outcome driven market, succeeding where traditional CRM deployments fail.
Find us on Twitter @tika_mobile
For more information feel free to email us: events@tikamobile.com